Deux livres Microsoft Press en téléchargement libre, dépêchez-vous
Pour célébrer ses 25 ans (et vu qu'on est en période de fêtes aussi), Microsoft a décidé d'offrir en libre téléchargement 2 e-book Microsoft Press en anglais :
Understanding IPv6, Second Edition, par Joseph Davies
Writing Secure Code for Windows Vista, par Michael Howard et David Leblanc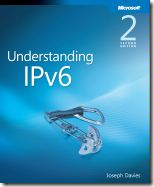 Je ne les ai pas lu, ça va donc être difficile de vous expliquer de quoi ça parle… Par contre, je suis allé vous retrouver les descriptions de ces deux livres que vous trouverez ci-dessous, en espérant que ça vous mette l'eau à la bouche !
Understanding IPv6, Second Edition

Start planning to transition to IPv6 internetworking and find out all about the next-generation Internet—from its features and benefits to its packet structure and protocol processes—with this complete book-plus-CD package.
Writing Secure Code for Windows Vista

Get the definitive guide to writing secure code and developing more-secure applications for Windows Vista–straight from the experts. Security is one of the greatest enhancements in Windows Vista, and developers will be urged to write more secure code on the platform to support a growing customer base. This reference delivers the straight scoop from the authors who wrote the immensely popular, award-winning book Writing Secure Code. Developers get first-hand insights into design decisions and practical advice for solving real-world security issues. The book covers new features, including ACLs and BitLocker(tm), as well as enhancements to familiar concepts, such as firewalls and authentication. In addition, there are plenty of code samples in C# on the Web. Designed to complement and extend Writing Secure Code, this book is essential for developers of Windows Vista.
Dépêchez-vous, l'offre est limitée dans le temps.
Bonne lecture !
Related
Didn't find any related posts :(